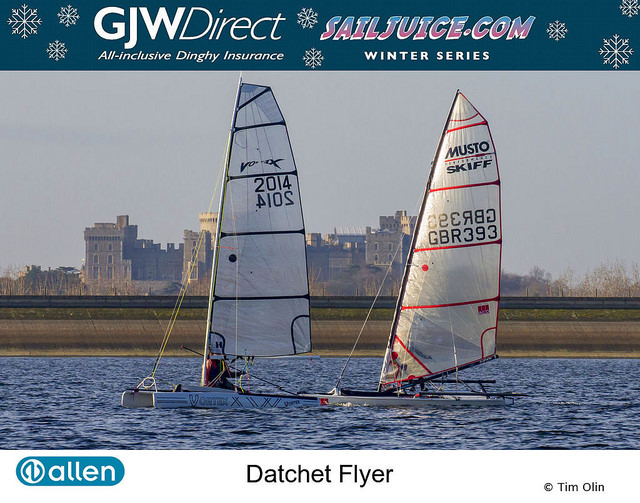 Now in its ninth season, this winter dinghy handicap championship brings out the best and the bravest to compete at seven big events throughout the chilly months.
ENTER Entry now opens for the ninth edition of the GJW Direct SailJuice Winter Series, which kicks off with the Fernhurst Books Draycote Dash on the weekend of 18/19 November 2017. Many sailors like to sign up online early before events get filled to capacity, as many were last year with three events selling out. Previous winners include multiple national and world champion Nick Craig who won two seasons with various crews in his Merlin Rocket, multiple Fireball World Champion Tom Gillard, and another Fireball World Champion Matt Mee who with Emma Norris won last season's championship in their RS200.

The official launch for the coming Series took placing during the Southampton Boat Show on the GJW Direct stand. Among the guests was Ian Walker, who has recently retired from his illustrious career as a professional sailor to become Race Director at the RYA. Ian is a past winner of a number of some events in the Series including the Bloody Mary. Last winter he turned up at Rutland Water to celebrate the memory of his late, great friend and fellow Olympic medallist, John Merricks. Not only did Ian make the after-dinner speech but he won the Tiger Trophy too, sailing an RS400 with Keith Bedborough. Ian is a big fan of the close quarters battle of handicap racing, and it wouldn't be a surprise to see him out competing again this winter, especially now he doesn't have a Volvo Ocean Race trophy to defend.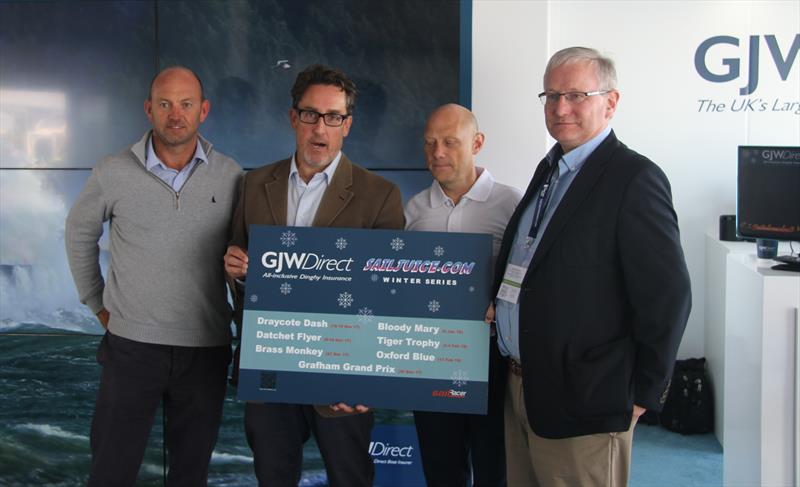 Here are some more facts on the Series:



BIG NUMBERS

Last year's GJW Direct SailJuice Winter Series saw over 1,000 competitors from 278 sailing clubs taking part in 89 different racing classes. The Series has a massive online following each winter, with a big growth in mobile access. Last year attracted more than 36,000 unique users who totalled more than 107,000 visits to the Series website, www.SailJuiceSeries.com


MAKE IT YOUR CLASS WINTER SERIES

Last year a number of classes scheduled the GJW Direct SailJuice Winter Series as a key part of their calendars, with SailRacer producing class specific extracted results. Any class interested in their own Winter Series as part of the GJW Direct SailJuice Winter Series, please contact Simon Lovesey @ SailRacer, with class prizes for any achieving 15+ entries. Last season saw 14 classes with entries over 15 boats.


FOUR OUT OF SEVEN

The same seven events are back from last year's Series. Once again, you must count your best four results from these seven events. Of course, you're welcome to enter and compete in as many events as you like - all seven if you're big enough to take on the challenge. This will give you more shots at getting a set of four good scores to put on the board.



THE EVENTS

The following regattas constitute the GJW Direct SailJuice Winter Series 2017/18:



· Draycote Dash, Draycote Water Sailing Club
· 18 & 19 November 2017
·
· Datchet Flyer, Datchet Water Sailing Club
· 9 & 10 December 2017
·
· Brass Monkey, Yorkshire Dales Sailing Club
· 27 December 2017
·
· Grafham Grand Prix, Grafham Water Sailing Club
· 30 December 2017
·
· Bloody Mary, Queen Mary Sailing Club
· 6 January 2018
·
· John Merricks Tiger Trophy, Rutland Sailing Club
· 3 & 4 February 2018

· Oxford Blue, Oxford Sailing Club
· 17 February 2018

2016/17 GJW Direct SailJuice Winter Series Prize Giving


Find out more at: 
www.SailJuiceSeries.com



GREAT LAKES HANDICAPPING

Handicap racing used to be dominated by 'bandit classes' which tended to hog the limelight and used to run away with the prizes more often than perhaps they should. Part of the aim of this Series is to iron out the imbalances and create fairer competition, rewarding the best sailors regardless of which class they are racing. It's an imperfect science, but our Great Lakes group of handicapping experts have spent the past seven years analysing historic race data. Early on, the big swings in numbers were controversial, but the Great Lakes team have seen enough data to have a pretty good handle on the relative speeds of all the well established classes. The newer or rarer classes are trickier to handle, but the more a particular boat competes, the more accurately the number can be nailed down. We're pretty happy, and proud, at how things have progressed with the handicapping Why? Because we're seeing a far wider spread of classes taking individual race wins and overall regatta victories.


AMALGAMATED ENTRY

SailRacer's online entry system means you can enter anything from one through to all seven events and make a single payment, saving you time and guaranteeing your place in advance. A number of the events were oversubscribed last year, and we're expecting the same again this year. Enter early!


IS YOUR BOAT ELIGIBLE?

However! Please note that each of the events has its own criteria for what kinds of boat and class are eligible. You are responsible for checking that you are eligible to compete at each of your preferred events in the Series before submitting your entry online. A broad rule of thumb: If you're planning to race a monohull dinghy that's as fast as or faster than a Topper, but no faster than a 49er (Big Rig), then you're probably OK. But do check first. International Moths, keelboats and multihulls should be careful because they are likely to be eligible for some, but not all, events in the Series.


LIVE TRACKING

As with last year, for some of the events SailRacer will be providing GPS Tracking, analysis and live updates from the race course for those wanting to follow the action in real time, and allow sailors to replay their races when they get home.


PRIZES FOR COMPETITORS & CLASSES

Thanks to generous support from Series sponsors, we have some great prizes for competitors and some classes too. The prize giving is scheduled for the RYA Suzuki Dinghy Show at Alexandra Palace in London on the weekend of 3/4 March 2018. We will look back at highlights from the series and interviews.

We have many sponsors coming back year after year to support the Series, including:

Allen Brothers - back again supporting the media output and the Allen Most Improved Award, last year won by Craig Williamson (Laser)

Dinghy Rope Top Class - based on best three results for each class across every race. Defending champions the Laser class fought off a strong challenge from the RS200s, who topped the leader board for most of the Series

Gul Top Lady - Ann Jackson (Enterprise) swapped places with Eleanor Craig (Radial), the 2015/16 top lady winner

SpeedSix Challenge - for the fastest speeds, both on an actual and adjusted basis recorded by the SailRacer GPS trackers. As an added bonus all competitors entering two or more of the tracked events will receive a free can of SpeedSix HydraPRO to help them go faster.

Trident Top Club - based on best three results for each club across every race, last year Datchet put together a concerted effort to get their members out to all events, seeing off competition from 277 other clubs.



Find out more about the Series here: www.SailJuiceSeries.com

The website will tell you more about the events in the Series, more about the Great Lakes handicapping process, and we'll keep you updated on everything else you need to know.




Photo Credits: Tim Olin (sailing photos), Mark Jardine/ Yachtsandyachting.com (launch photos)



Notes to editors:

Previous winners of the GJW Direct Sailjuice Winter Series

2016/17 Matt Mee & Emma Norris (RS200)

2015/16 Ian Dobson & Andy Tunnicliffe (GP14)

2014/15 Nick Craig & various crews (Merlin Rocket)

2013/14 Michael Sims (Solo)

2012/13 Tom Gillard & Simon Potts (Fireball)

2011/12 Peter Gray & Rachael Rhodes (Scorpion)

2010/11 Andy Peake (Musto Skiff)

2009/10 Olly Turner & Richard Whitworth (Merlin Rocket)



SailJuice.com is the 'how to sail and race faster' website, with hundreds of articles and exclusive interviews with National, World and Olympic Champions. Professional sailing journalist and editor of SailJuice.com, Andy Rice, came up with the concept of the SailJuice Winter Series (originally known as the SailJuice Global Warm-Up) as a way of increasing participation levels in dinghy racing during the off-season in the UK.

SailRacer manages event websites and processes online entry for major National, International, Youth and training events, providing online scoring, analysis and advanced sports presentation including GPS tracking and live video.

GJW Direct's 'All-inclusive Dinghy Insurance Policy' offers outstanding premiums, taking the worry out of dinghy sailing and racing. The web site, gjwdirect.co.uk/dinghy, offers the facility to get a quick quote and immediate on-line cover. This policy can be arranged by phoning GJW Direct on 0151 473 8000.


7/10/2017 10:20