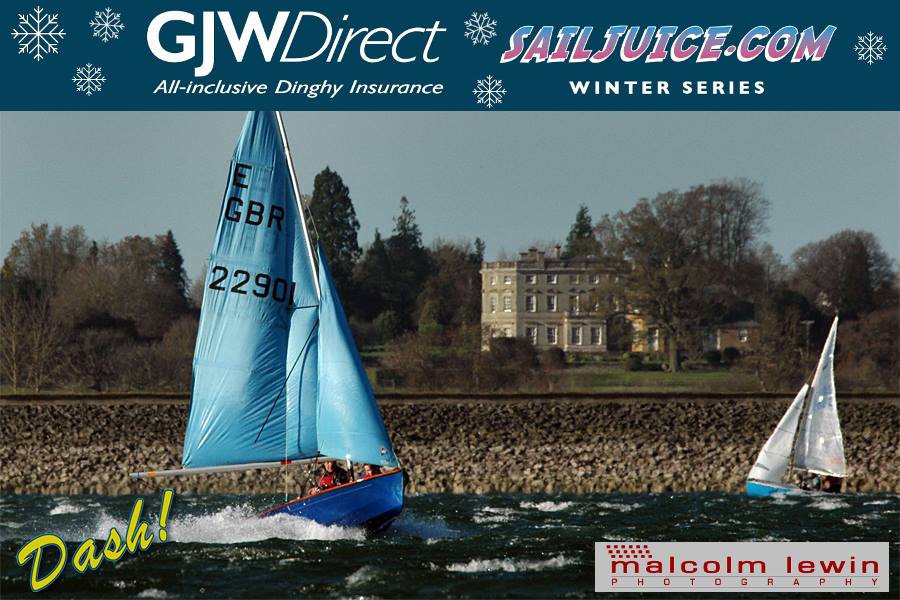 Entry closes this Sunday, 12th November, for the opening event of the GJW Direct SailJuice Winter Series, the Fernhurst Books Draycote Dash (and there's NO entry on the day, so get your skates on!)
Entries are filling up fast for the Fernhurst Books Draycote Dash which takes place on the weekend of 18 & 19 November. The opening event of the GJW Direct SailJuice Winter Series attracts some of the big names in UK dinghy racing and it's looking like another good spread of talents and classes at this year's event on the picturesque reservoir near Rugby.
There is no entry on the day for the Draycote Dash, so make sure you get your entry in before online entry closes this Sunday 12 November.
Enter Here The Draycote Dash is offering all competitors, as part of their entrance fee, 20% off all Fernhurst Books titles purchased at the event. With 130 titles to choose from, covering most watersports (sailing, swimming, diving, fishing, canoeing and surfing) there is something for anyone who likes being in, on or under the water! So do your shopping early for Christmas.
Among the more unusual entries listed so far is a Norfolk Punt which will be raced by Colin and Oly Murray from Ullswater Yacht Club. John Tippett and Kathy Boulton will be competing for the host club, Draycote Sailing Club, in a Miracle dinghy. Another doublehander rarely seen on the handicap circuit is the Laser II, but Girton Sailing Club's Steven Bishop and Amie King will be racing theirs, while Adrian and Tracie Padro are coming from Shustoke Sailing Club to compete in their Comet Trio.
It will be great to see the two Hadron H2s going head to head, with fellow Midland Sailing Club members Richard Adams and Chris Gould in their personal match race.
Rutland's fleet of Challengers are out in force, with Series regular Val Millward competing alongside Jack Alderdice and Graham Hall. At the faster end of the fleet are some strong Fireball teams, not least former Olympic representative Penny Clark crewed by husband Russell. This Stokes Bay team won the final event of last winter when they sailed their RS400 to victory at the Oxford Blue, but the Clarks have switched over to the Fireball in preparation for an assault on the major championships next summer.
That's why so many competitors come back winter after winter to compete in the Series, because it makes sure they're race sharp for the start of the open meeting season. The chance to hone your skills over the winter is some of the best training you can do. The Saturday's racing consists of three back-to-back handicap races, and then there's theSunday finale of a Pursuit Race. To find out more, here's the online briefing which you can watch now.
Even more importantly, get that entry in before this Sunday and get your winter season off to a flying start:
MORE INFO on the GJW Direct SailJuice Winter Series


There are lots of different categories, races within the race, and many prizes to reward performance and tenacity on the water…
Free SpeedSix HydroPro
Enter two or more of the SpeedSix Challenge events (Draycote, Datchet and Oxford) and you will receive a sling-shot can of SpeedSix HydroPro to help you go even faster.
Youth support - discounted entries
As part of GJW Direct's drive to encourage more Youth Sailors (18 and under during 2018) to compete in the Series, these sailors will be eligible for a third off their entry fees when entering four or more events at the same time. There will be specific extracted rankings and prizes, for both Junior and Youth aged sailors.
In addition to the main overall prizes, there will again be a number of special category awards and rankings, including :
Allen Best Progression
Dinghy Rope Top Class
GUL Top Lady
Youth and Junior
Trident Top Club
SpeedSix GPS challenge
Class specific (15+ boats)
Boat type (Fast Symmetric, Fast Asymmetric, Slow Symmetric, Slow Asymmetric)

BIG NUMBERS
Last year's GJW Direct SailJuice Winter Series saw over 1,000 competitors from 278 sailing clubs taking part in 89 different racing classes. The Series has a massive online following each winter, with a big growth in mobile access. Last year attracted more than 36,000 unique users who totalled more than 107,000 visits to the Series website, www.SailJuiceSeries.com
MAKE IT YOUR CLASS WINTER SERIES
Last year a number of classes scheduled the GJW Direct SailJuice Winter Series as a key part of their calendars, with SailRacer producing class specific extracted results. Any class interested in their own Winter Series as part of the GJW Direct SailJuice Winter Series, please contact Simon Lovesey @ SailRacer, with class prizes for any achieving 15+ entries. Last season saw 14 classes with entries over 15 boats.
FOUR OUT OF SEVEN
The same seven events are back from last year's Series. Once again, you must count your best four results from these seven events. Of course, you're welcome to enter and compete in as many events as you like - all seven if you're big enough to take on the challenge. This will give you more shots at getting a set of four good scores to put on the board.
THE EVENTS
The following regattas constitute the GJW Direct SailJuice Winter Series 2017/18):
Draycote Dash, Draycote Water Sailing Club
18 & 19 November 2017
Datchet Flyer, Datchet Water Sailing Club
9 & 10 December 2017
Brass Monkey, Yorkshire Dales Sailing Club
27 December 2017
Grafham Grand Prix, Grafham Water Sailing Club
30 December 2017
Bloody Mary, Queen Mary Sailing Club
6 January 2018
John Merricks Tiger Trophy, Rutland Sailing Club
3 & 4 February 2018
Oxford Blue, Oxford Sailing Club
17 February 2018
Find out more about the Series here: www.SailJuiceSeries.com
The website will tell you more about the events in the Series, more about the Great Lakes handicapping process, and we'll keep you updated on everything else you need to know.
11/11/2017 09:04