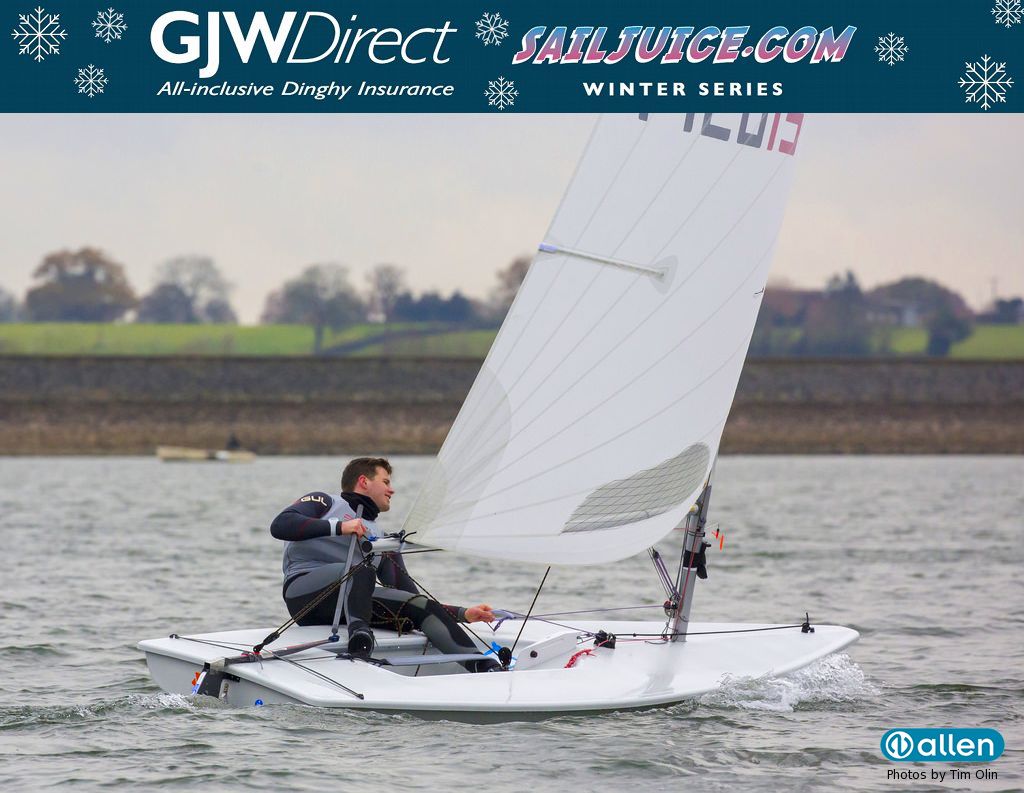 A year ago Craig Williamson steered his Laser to victory in the opening event of the GJW Direct SailJuice Winter Series, the Fernhurst Books Draycote Dash. He'll be up against some stiff competition if he's to hold on to the title...
There was a flurry of last-minute sign-ups to the Fernhurst Books Draycote Dash last weekend before entry closed, and there are some big names to watch out for. Last year's winner of the opening event in the of the GJW Direct SailJuice Winter Series, Craig Williamson will be looking over his shoulder during the Sunday pursuit race, watching out for the charge from some of the faster boats starting behind his Laser. In the Fireballs, for example, the 2015/16 Series winner Ian Dobson is racing with class veteran Richard Wagstaff. They might have their work cut out just beating the rest of the Fireballs however, which includes a past national champion Kevin Hope crewed by Russell Thorne.
Further back in the starting order is another former winner of the GJW Direct SailJuice Winter Series, the multiple national and world champion Nick Craig, whose weapon of choice on this occasion is a B14 crewed by Pete Nicholson. Also racing a B14 is frontrunner Mark Barnes crewed by Charlotte Horlock.
With Saturday's forecast of light to medium winds from the west, and Sunday's pursuit race set to take place on a light to medium northerly, the outcome looks wide open. Will it be windy enough for the Fireballs? Will it be light enough for the B14s and other asymmetric classes to fly their gennakers on the square reaches? Will the simplicity of the Laser work to Williamson and the other Laser sailors' advantage on the often complex pursuit race course? You can see for yourself by following the live tracking provided by SailRacer. Tune in this weekend to www.sailjuiceseries.com
The Draycote Dash is offering all competitors, as part of their entrance fee, 20% off all Fernhurst Books titles purchased at the event. With 130 titles to choose from, covering most watersports (sailing, swimming, diving, fishing, canoeing and surfing) there is something for anyone who likes being in, on or under the water! And one of them is even written by Nick Craig!
Competitors can get acquainted with the plan for the day by watching the online briefing here:
https://www.youtube.com/watch? v=UAFY1gxN2Fo&feature=youtu.be
There are six more events coming up after the Draycote Dash and you don't even need to bring boat!
Try a new class at the GJW Direct SailJuice Winter Series
Many class associations have used the GJW Direct SailJuice Winter Series to allow people to try their boats and compare to the other 89 classes racing. You can now request to try a boat via www.sailjuiceseries.com ; classes already signed up include : Buzz, Hadron H2, National 18 and RS Aero.
Win an RS Aero
As part of the initiative to encourage increased youth participation in the 2017/18 GJW Direct SailJuice Winter Series, we are pleased to announce the competition for 18 and under (during 2018) to win an RS Aero for one of the events this winter.
THE EVENTS
The following regattas constitute the GJW Direct SailJuice Winter Series 2017/18):
Draycote Dash, Draycote Water Sailing Club
18 & 19 November 2017
Datchet Flyer, Datchet Water Sailing Club
9 & 10 December 2017
Brass Monkey, Yorkshire Dales Sailing Club
27 December 2017
Grafham Grand Prix, Grafham Water Sailing Club
30 December 2017
Bloody Mary, Queen Mary Sailing Club
6 January 2018
John Merricks Tiger Trophy, Rutland Sailing Club
3 & 4 February 2018
Oxford Blue, Oxford Sailing Club
17 February 2018
Find out more at:
www.SailJuiceSeries.com
The website will tell you more about the events in the Series, more about the Great Lakes handicapping process, and we'll keep you updated on everything else you need to know.
Photo Credits: Tim Olin
Notes to editors:
Previous winners of the GJW Direct Sailjuice Winter Series
2016/17 Matt Mee & Emma Norris (RS200)
2015/16 Ian Dobson & Andy Tunnicliffe (GP14)
2014/15 Nick Craig & various crews (Merlin Rocket)
2013/14 Michael Sims (Solo)
2012/13 Tom Gillard & Simon Potts (Fireball)
2011/12 Peter Gray & Rachael Rhodes (Scorpion)
2010/11 Andy Peake (Musto Skiff)
2009/10 Olly Turner & Richard Whitworth (Merlin Rocket)
SailJuice.com is the 'how to sail and race faster' website, with hundreds of articles and exclusive interviews with National, World and Olympic Champions. Professional sailing journalist and editor of SailJuice.com, Andy Rice, came up with the concept of the SailJuice Winter Series (originally known as the SailJuice Global Warm-Up) as a way of increasing participation levels in dinghy racing during the off-season in the UK.
SailRacer manages event websites and processes online entry for major National, International, Youth and training events, providing online scoring, analysis and advanced sports presentation including GPS tracking and live video.
GJW Direct's 'All-inclusive Dinghy Insurance Policy' offers outstanding premiums, taking the worry out of dinghy sailing and racing. The website, gjwdirect.co.uk/dinghy , offers the facility to get a quick quote and immediate on-line cover. This policy can be arranged by phoning GJW Direct on 0151 473 8000.
17/11/2017 19:23