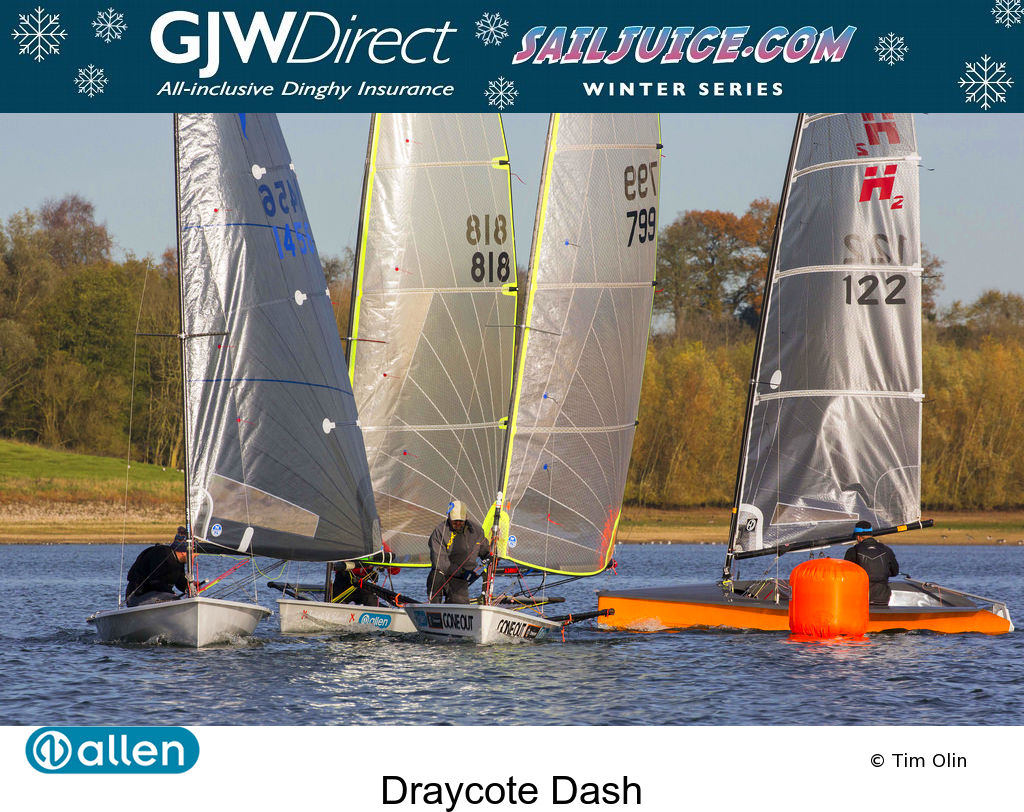 Reigning Phantom National Champion Andy Couch wins the opening event of the GJW Direct SailJuice Winter Series, becoming the first double victor of the Fernhurst Books Draycote Dash. It was a light airs contest, but with 13 different types of boat filling the top 13 places...
Andy Couch dominated the Fernhurst Books Draycote Dash to become the early leader in this season's GJW Direct SailJuice Winter Series. It was a light airs contest on Draycote Water which suited the slow and medium handicap boats, although the Great Lakes Handicap numbers were certainly doing their work, with 13 different classes filling the top 13 places in the 92-boat fleet.
For four races on Saturday took place in a light drizzle and soft but sailable breezes. In the slightly lighter winds the Norfolk Punt of Colin and Oly Murray gracefully led the fast handicap fleet on the water, but lost out on handicap. Couch set the handicap pace in race one, the Phantom crossing first ahead of Alistair Goodwin's Laser and Andrew Snell sailing a K1. Snell would go on to win the fourth and final race of the day, while Andrew Brown and Alex Sutcliffe won another race in their RS200. Couch was the overnight leader after winning two heats and coming second on handicap in the other two.
The black flag starts caught out a number of over-keen competitors including the B14 of Mark Barnes and Charlotte Horlick in race one and even Draycote Rear Commodore William Whittaker. Multiple dinghy champion Nick Craig also fell foul of the black flag in race three and he and crew Pete Nicholson didn't manage to make much of an impression on the results as they had bought a bargain-basement B14 for practising while their championship boat is on the way to the Worlds in Australia. Race organiser and Fernhurst Books publisher Jeremy Atkins commented on Craig (a Fernhurst author): "Nick spent the first race putting the boat together and was then black-flagged in the third and was sailing in conditions hardly suited to the B14. So many people could claim to have beaten Nick this weekend but, as always, Nick remained positive, saying he had learnt things over the weekend which would help his Worlds campaign."
Sunday dawned with a light breeze which then went, but came back for the very slightly postponed start. A tight course was set and the Solo of Draycote's Chris Brown was in the lead before the first hour was up and it looked as if the fast boats weren't going to have much chance. However after another hour Andy Couch had all but caught up Brown to take another second place - two firsts, two seconds and discarding a second. Couch has proved himself an incredibly versatile sailor, having won the Draycote Dash two years ago in extremely windy conditions crewing for Tom Gillard in a 505. The Leigh & Lowton sailor becomes the first to win the Draycote Dash twice in its eight year history, once as a crew and now as a helm.
If Couch was the runaway winner this year, there was a very close battle for second overall between the K1, a Comet Trio and a Lark. Snell was tied on 14 points with Adrian and Tracie Padro's Comet Trio but Snell's first place at the end of Saturday gave second overall to the K1. Stuart Hydon and Ann Biglin finished in fourth place just two points behind the Comet Trio in third. First Master was Mike Lyons who raced his Halo to eighth overall, and first Youth was Ben Flower whose Laser was 16th. None of the trapeze boats quite made it into the top 10, the best finisher being the 11th placed Osprey sailed by Phil Meakins and Nick Willis.
The next event in the GJW Direct SailJuice Winter Series is the Datchet Flyer which takes place just under three weeks from now, on 9&10 December.
THE EVENTS
The following regattas constitute the GJW Direct SailJuice Winter Series 2017/18):
Draycote Dash, Draycote Water Sailing Club
18 & 19 November 2017
Datchet Flyer, Datchet Water Sailing Club
9 & 10 December 2017
Brass Monkey, Yorkshire Dales Sailing Club
27 December 2017
Grafham Grand Prix, Grafham Water Sailing Club
30 December 2017
Bloody Mary, Queen Mary Sailing Club
6 January 2018
John Merricks Tiger Trophy, Rutland Sailing Club
3 & 4 February 2018
Oxford Blue, Oxford Sailing Club
17 February 2018
Find out more about the Series here: www.SailJuiceSeries.com
The website will tell you more about the events in the Series, more about the Great Lakes handicapping process, and we'll keep you updated on everything else you need to know.
Photo Credits: Tim Olin
Notes to editors:
Previous winners of the GJW Direct Sailjuice Winter Series
2016/17 Matt Mee & Emma Norris (RS200)
2015/16 Ian Dobson & Andy Tunnicliffe (GP14)
2014/15 Nick Craig & various crews (Merlin Rocket)
2013/14 Michael Sims (Solo)
2012/13 Tom Gillard & Simon Potts (Fireball)
2011/12 Peter Gray & Rachael Rhodes (Scorpion)
2010/11 Andy Peake (Musto Skiff)
2009/10 Olly Turner & Richard Whitworth (Merlin Rocket)
SailJuice.com is the 'how to sail and race faster' website, with hundreds of articles and exclusive interviews with National, World and Olympic Champions. Professional sailing journalist and editor of SailJuice.com, Andy Rice, came up with the concept of the SailJuice Winter Series (originally known as the SailJuice Global Warm-Up) as a way of increasing participation levels in dinghy racing during the off-season in the UK.
SailRacer manages event websites and processes online entry for major National, International, Youth and training events, providing online scoring, analysis and advanced sports presentation including GPS tracking and live video.
GJW Direct's 'All-inclusive Dinghy Insurance Policy' offers outstanding premiums, taking the worry out of dinghy sailing and racing. The website, gjwdirect.co.uk/dinghy , offers the facility to get a quick quote and immediate on-line cover. This policy can be arranged by phoning GJW Direct on 0151 473 8000 .
20/11/2017 10:13