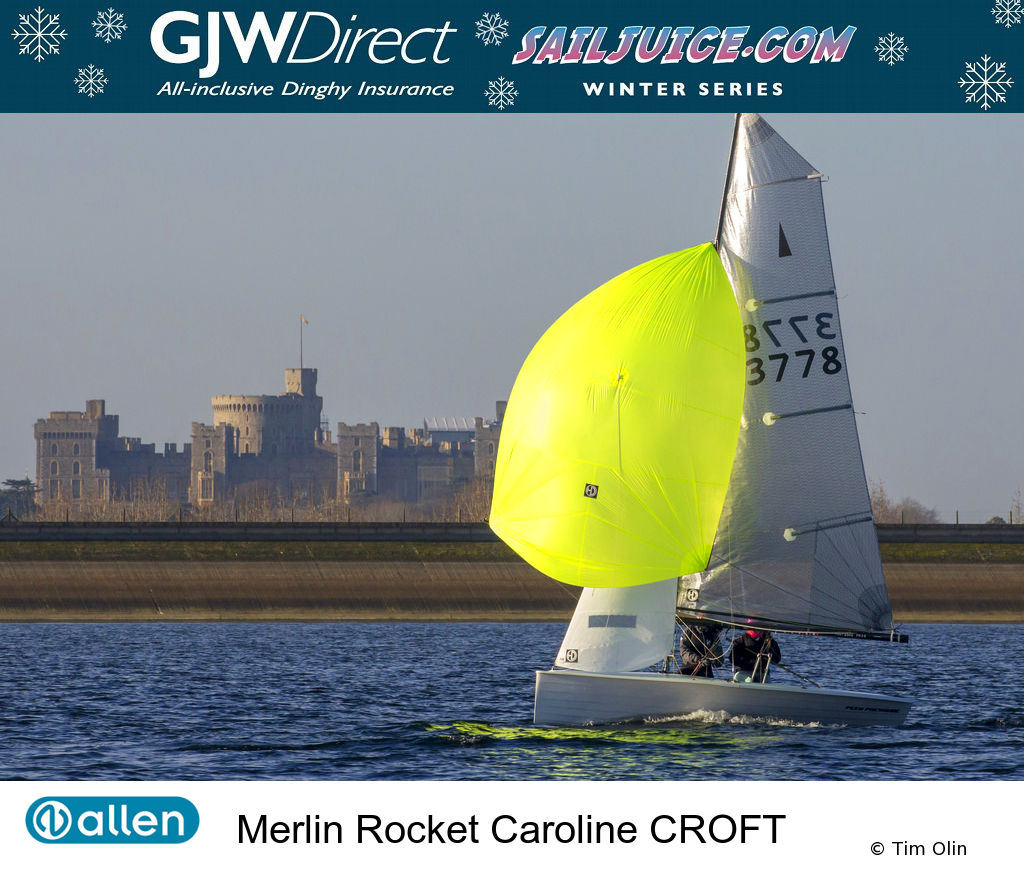 Discounted early entry closes this Monday for round two of the GJW Direct SailJuice Winter Series, the Datchet Flyer, with some big names already down on the list. This is also the first event where the big cats can come to play with the dinghies...
Enter Now Chris Rashley is among the early entries for the Datchet Flyer, set to take place in a week's time at Datchet Water Sailing Club near Heathrow Airport on 9 & 10 December. Rashley, whose day job is campaigning a Nacra 17 foiler for the Tokyo Olympics, is set to compete in an RS800 after dominating the National Championships at his home club of Stokes Bay Sailing Club in September. The multiple Moth National and European Champion will be pushed by regular RS800 contenders, the father and daughter combo of Ralph and Sophie Singleton.
Other notables include former Series winner and Endeavour legend Nick Craig, racing a Merlin Rocket with Emma Clarke, and regular Series participant Ben Schooling in his Musto Skiff.
Three races are scheduled for Saturday, with first warning signal not before 1200 hours. The intention is to run all boats on the same course with, depending upon numbers and class splits, two or three starts at 3 minute intervals. The Datchet Flyer concludes on Sunday with a pursuit race, which has been configured in such a way as to give the faster boats more time on the water.
Discounted entry fees end 4th December 2017. Entries made after this date will attract a supplementary entry fee of £10. Online entry will close at midnight on Thursday 7th December 2017.
Enter here: www.sailjuiceseries.com
THE STORY SO FAR…
After Round 1 of the GJW Direct SailJuice Winter Series, the Fernhurst Books Draycote Dash was won by Andy Couch (Phantom), here's a round-up of other news in the Series...
Winter Cat Series
Cats are welcome to compete at three of the 2017/18 GJW Direct SailJuice Winter Series Events : Datchet Flyer, Grafham Grand Prix and the Tiger Trophy which will form the basis of the Winter Cat Series. Enter now to secure your place. More...
GJW Direct SailJuice Winter Series prizes and rankings
In addition to the overall top 10 rankings there are numerous other specialist awards and a chance for every one to win. Over 100 prizes were awarded across the series last winter.
Allen Performance Challenge
Chris Brown (RS100) topped the rankings, based on analytics showing the best progression towards the front of the fleet in each race. More...
Dinghy Rope Top Class
The Laser Class opened its defence to make it a hat trick of wins but were pushed hard by the Solo Class at the Fernhurst Books Draycote Dash. The Dinghy Rope Top Class rankings are based on the best three results from each class across every race, with prizes for sailors from the top three classes who qualify for the GJW Direct SailJuice Winter Series with the highest number of points. More...
Trident Top Club
With a big home entry, Draycote Water SC headed the Trident Top Club rankings after GJW Direct SailJuice Winter Series Round 1, looking to win this prestigious award and Trident Vouchers for the club to spend. Based on the best three results for each club across every race. More...
GUL Top Lady
Previous winner and runner up last Winter, Eleanor Craig (Radial) leads the Gul Top Lady Rankings after GJW Direct SailJuice Winter Series Round 1, but pushed hard by Val Millward (Challenger) More...
Youth and Junior Rankings
It was great to see a big Youth and Junior turnout at Draycote, with Ben Flower (Laser) topping the rankings, Hamilton Roaf (Graduate) 2nd and last Winter's winner George Coles (Laser) completing the podium in 3rd. More...
SpeedSix Challenge
With some great SpeedSix prizes awarded at Draycote for those recording the highest sustained top speeds by the SailRacer GPS trackers both on an actual and corrected basis, Colin and Olly Murray (Norfolk Punt) achieved the best corrected speeds across every race. More...
Win an RS Aero
As part of the initiative to encourage increased youth participation in the 2017/18 GJW Direct SailJuice Winter Series, we are pleased to announce the competition for under 18s (during 2018) to win an RS Aero for one of the events this winter. More...
Free SpeedSix HydroPro
Enter two or more of the SpeedSix Challenge events in the GJW Direct SailJuice Winter Series (Draycote, Datchet and Oxford) and you will receive a sling-shot can of SpeedSix HydroPro to help you go even faster. More...
2017-18 GJW Direct SailJuice Winter Series
Online entry is open for the 2017/18 GJW Direct SailJuice Winter Series, now in its 9th season and again the focal point of winter racing. Last winter saw 1,000+ competitors, representing 89 classes and 278 clubs showing the series continues to go from strength to strength. A number of events sold out last winter and many are now only accepting online advance entry via the Series website. So, if you intend to race this winter do not delay in entering, you can easily enter one event through to all seven. More...
Youth support - discounted entry fees
As part of GJW Direct's drive to encourage more Youth Sailors (18 and under during 2018) to compete in the Series, these sailors will be eligible for a third off their entry fees when entering two or more events at the same time. More...
Try a new class at the GJW Direct SailJuice Winter Series
Many class associations have used the GJW Direct SailJuice Winter Series to allow people to try their boats and compare to the other 89 classes racing. You can now request to try a boat via the GJW Direct SailJuice Winter Series website; classes already signed up include : Buzz, Hadron H2, National 18 and RS Aero. More...
Four out of Seven
The same seven events are back from last year's Series. With one event completed, there's still time to count your best four results from these seven events. Of course, you're welcome to enter and compete in as many events as you like - all of them if you're big enough to take on the challenge. This will give you more shots at getting a set of four good scores to put on the board.
THE EVENTS
The following regattas constitute the GJW Direct SailJuice Winter Series 2017/18):
Draycote Dash, Draycote Water Sailing Club
18 & 19 November 2017
Datchet Flyer, Datchet Water Sailing Club
9 & 10 December 2017
Brass Monkey, Yorkshire Dales Sailing Club
27 December 2017
Grafham Grand Prix, Grafham Water Sailing Club
30 December 2017
Bloody Mary, Queen Mary Sailing Club
6 January 2018
John Merricks Tiger Trophy, Rutland Sailing Club
3 & 4 February 2018
Oxford Blue, Oxford Sailing Club
17 February 2018
Find out more at:
www.SailJuiceSeries.com
Find out more about the Series here: www.SailJuiceSeries.com
The website will tell you more about the events in the Series, more about the Great Lakes handicapping process, and we'll keep you updated on everything else you need to know.
Further Information for media:
Photo Credits: Tim Olin
Notes to editors:
Previous winners of the GJW Direct Sailjuice Winter Series
2016/17 Matt Mee & Emma Norris (RS200)
2015/16 Ian Dobson & Andy Tunnicliffe (GP14)
2014/15 Nick Craig & various crews (Merlin Rocket)
2013/14 Michael Sims (Solo)
2012/13 Tom Gillard & Simon Potts (Fireball)
2011/12 Peter Gray & Rachael Rhodes (Scorpion)
2010/11 Andy Peake (Musto Skiff)
2009/10 Olly Turner & Richard Whitworth (Merlin Rocket)
SailJuice.com is the 'how to sail and race faster' website, with hundreds of articles and exclusive interviews with National, World and Olympic Champions. Professional sailing journalist and editor of SailJuice.com, Andy Rice, came up with the concept of the SailJuice Winter Series (originally known as the SailJuice Global Warm-Up) as a way of increasing participation levels in dinghy racing during the off-season in the UK.
SailRacer manages event websites and processes online entry for major National, International, Youth and training events, providing online scoring, analysis and advanced sports presentation including GPS tracking and live video.
GJW Direct's 'All-inclusive Dinghy Insurance Policy' offers outstanding premiums, taking the worry out of dinghy sailing and racing. The website, gjwdirect.co.uk/ dinghy , offers the facility to get a quick quote and immediate on-line cover. This policy can be arranged by phoning GJW Direct on 0151 473 8000 .
1/12/2017 13:46