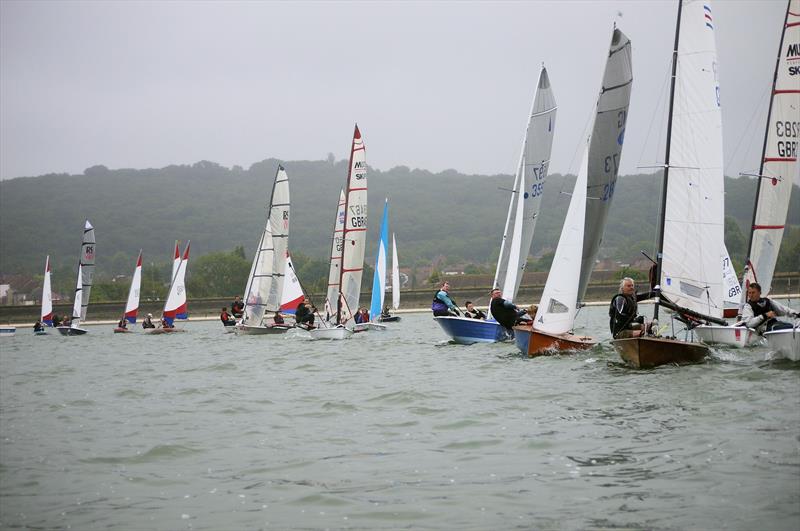 Thanks to some speedy action by King George Sailing Club, the King George Gallop steps in as a temporary replacement event for the Bloody Mary in the GJW Direct SailJuice Winter Series...
Following the reluctant but necessary cancellation of the Bloody Mary due to low water levels at Queen Mary Sailing Club, King George Sailing Club in North London is to host a replacement event on 6 January 2018. The newly-titled King George Gallop, named after the famous horse race the King George VI Chase, becomes a temporary replacement for the Bloody Mary in the GJW Direct SailJuice Winter Series.
"It's sad that the Bloody Mary had to be cancelled," said Series founder and co-organiser Andy Rice, "but having raced at Queen Mary Sailing Club recently in a smaller fleet, it was clear that there was no way of sensibly holding a multi-class handicap event for two or three hundred visiting boats. We're looking forward to seeing the Bloody Mary back at full strength in 2019. Meanwhile, however, we wanted to keep the GJW Direct SailJuice Winter Series at a seven-event series, and particularly for those who had already entered for the Bloody Mary."
Enter Now>>> Fortunately a white knight arrived in the form of King George Sailing Club, the North London club which has offered to stage a pursuit race on 6 January. Simon Lovesey, co-organiser of the Series, commented: "It's great that King George were prepared to step in at such short notice. The format will be one pursuit race, open to all monohull centreboard dinghies with a PY number equal or lower than the Topper. Anyone who has already entered the Bloody Mary will have their entry automatically carried over to the King George Gallop, although of course anyone who wants a refund can request that if they prefer."
Club commodore at King George, Tony Cooper said the club is excited at the prospect of holding the event, which has an entry limit of 100 boats. "With 232 acres of water and one of the largest sailing venue in London, we are looking forward to welcoming a diverse range of dinghies for what we expect to be an annual event."
King George is located close to where the North Circular meets the M11, just 10 minutes from J26 of the M25 and ideally suited for anyone looking to spend a weekend in London, with trains from Chingford or Ponders End taking less than 30 minutes to get to Liverpool Street.
Entry for the King George Gallop is now open, and you can secure your spot at this brand new event by going to:
THE EVENTS
The following regattas constitute the GJW Direct SailJuice Winter Series 2017/18):
Draycote Dash, Draycote Water Sailing Club
18 & 19 November 2017
Datchet Flyer, Datchet Water Sailing Club
9 & 10 December 2017
Brass Monkey, Yorkshire Dales Sailing Club
27 December 2017
Grafham Grand Prix, Grafham Water Sailing Club
30 December 2017
King George Gallop, King George Sailing Club (replaces cancelled Bloody Mary)
6 January 2018
John Merricks Tiger Trophy, Rutland Sailing Club
3 & 4 February 2018
Oxford Blue, Oxford Sailing Club
17 February 2018
You can find out more about the Series here: www.SailJuiceSeries.com
Photo Credits: KGSC
Notes to editors:
Previous winners of the GJW Direct Sailjuice Winter Series
2016/17 Matt Mee & Emma Norris (RS200)
2015/16 Ian Dobson & Andy Tunnicliffe (GP14)
2014/15 Nick Craig & various crews (Merlin Rocket)
2013/14 Michael Sims (Solo)
2012/13 Tom Gillard & Simon Potts (Fireball)
2011/12 Peter Gray & Rachael Rhodes (Scorpion)
2010/11 Andy Peake (Musto Skiff)
2009/10 Olly Turner & Richard Whitworth (Merlin Rocket)
SailJuice.com is the 'how to sail and race faster' website, with hundreds of articles and exclusive interviews with National, World and Olympic Champions. Professional sailing journalist and editor of SailJuice.com, Andy Rice, came up with the concept of the SailJuice Winter Series (originally known as the SailJuice Global Warm-Up) as a way of increasing participation levels in dinghy racing during the off-season in the UK.
SailRacer manages event websites and processes online entry for major National, International, Youth and training events, providing online scoring, analysis and advanced sports presentation including GPS tracking and live video.
GJW Direct's 'All-inclusive Dinghy Insurance Policy' offers outstanding premiums, taking the worry out of dinghy sailing and racing. The website, gjwdirect.co.uk/dinghy , offers the facility to get a quick quote and immediate on-line cover. This policy can be arranged by phoning GJW Direct on 0151 473 8000.
15/12/2017 13:51