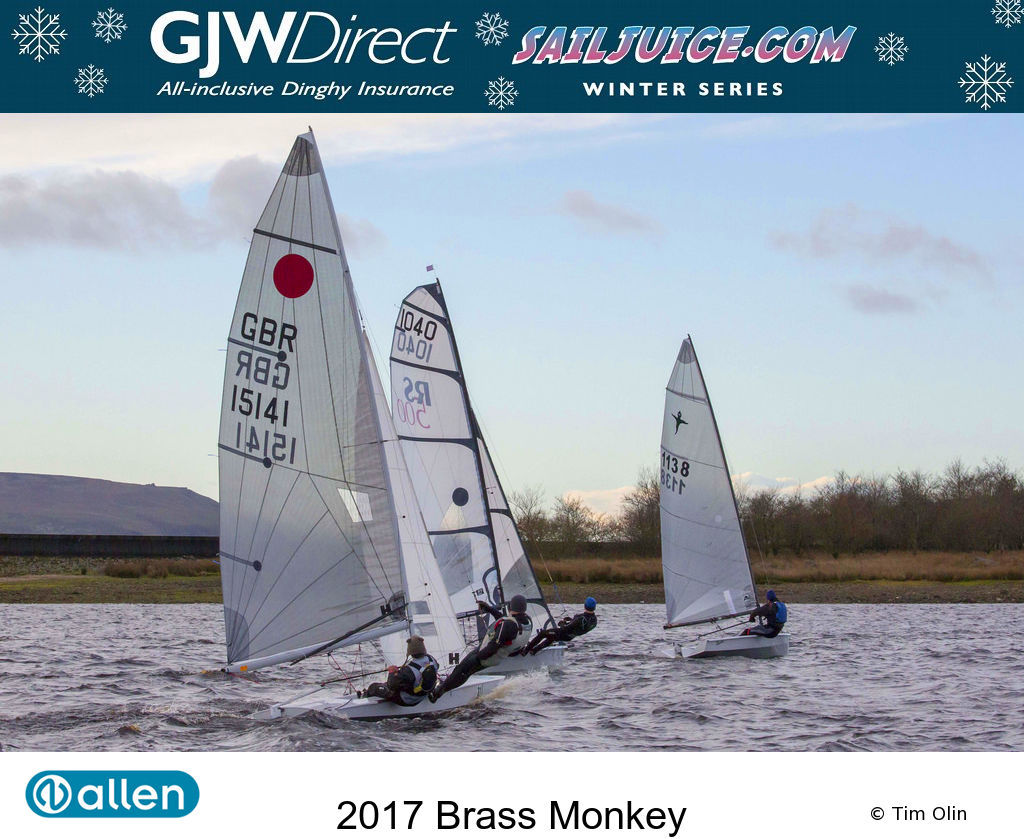 Local legend Graham Tinsley races his Laser to victory at the Yorkshire Dales Brass Monkey, which lived up to its name with freezing conditions.
Graham Tinsley from the host club sailed consistently to take the win at the YDSC Brass Monkey, which forms part of the GJW Direct Sailjuice Winter Series. Entries were oversubscribed weeks before the event although some of those from the Midlands struggled to make the journey due to heavy snowfall in their area.
Arriving on the day sailors were greeted to a bleak northerly gusting up to 25 knots and temperature hovering around 0 degrees, but luck was with the PRO Phil Whitehead (who had to chip ice off the course board during the briefing) as the breeze swung to a preferable north-westerly at 15 knots and the mercury rose to a balmy 1 degree.
Results Fleets were split into three starts with the "slow" boats off first. At the first windward buoy it looked like Graham Tinsley would lead but he took turns for an infringement leaving the OK of Tony Woods to lead the fleet. On the downwind one energetic Laser sailor decided it was getting too warm so went for a quick swim in the icy water. In the "middle" fleet more singlehanders were hitting the front, this time the Blaze of Charlie Chandler and Finn of Hector Simpson who had a fantastic battle all day.
It was no surprise to see the colourful kite of 49er Matty and James Lyons hoisted first of the "fast" boats as they flew through the fleet, but after a slow start it was the Musto Skiff of Jono Shelley who sailed well enough to take the win followed by Graham Tinsley, Chris Pickles/Matt Sharman (RS400), Hector Simpson, and the Laser Radial of Oliver Blackburn.
Sailors and visitors alike were grateful for a hot lunch of curry or chilli. They would need as much warmth as possible as the sun was starting to dip to the horizon and sheets beginning to freeze.
A few decided not to brave the afternoon race, but those that did enjoyed bright sun, 10 knots and a below-zero race. Jack Hopkins in his Laser battled with Graham Tinsley throughout the race, the lead changing regularly. However, Jack came out on top to take the win, Charlie Chandler split the two Lasers with the consistent Hector Simpson and Oliver Blackburn following. First two-person boat - Jonny and Sarah McGovern (RS200) followed in sixth. Race one winner Jono Shelley struggled to break through in the lighter breeze finishing 20th. First Female helm was Eleanor Craig (Laser Radial) in 18th.
The event favoured the singlehanders, Only Jonny and Sarah breaking into the top 10. Others were Lasers, a Finn, Blaze, Streaker, RS100 and Musto Skiff. The Fireballs, 505, RS400s found it difficult to break through, but one suspects it would have been different had the wind stayed stronger.
As boats were hauled out, hot chocolate was served to grateful sailors, although crampons may have been better! Graham Tinsley thanked the club for all the hard work done especially the visitors who came, PRO Phil Whitehead, and galley organiser Pam Cousens.
Meanwhile, entries have already exceeded 150 for the Grafham Grand Prix on 30 December, and you'll need to be fast to secure your spot before online entry closes this evening at 8pm on Thursday 28 December.
Enter at: www.sailjuiceseries.com
Report by Ian Escritt, Yorkshire Dales Sailing Club
THE EVENTS
The following regattas constitute the GJW Direct SailJuice Winter Series 2017/18):
Draycote Dash, Draycote Water Sailing Club
18 & 19 November 2017
Datchet Flyer, Datchet Water Sailing Club
9 & 10 December 2017
Brass Monkey, Yorkshire Dales Sailing Club
27 December 2017
Grafham Grand Prix, Grafham Water Sailing Club
30 December 2017
King George Gallop, King George Sailing Club (replaces cancelled Bloody Mary)
6 January 2018
John Merricks Tiger Trophy, Rutland Sailing Club
3 & 4 February 2018
Oxford Blue, Oxford Sailing Club
17 February 2018
You can find out more about the Series here: www.SailJuiceSeries.com
Photo Credits: Tim Olin
Notes to editors:
Previous winners of the GJW Direct Sailjuice Winter Series
2016/17 Matt Mee & Emma Norris (RS200)
2015/16 Ian Dobson & Andy Tunnicliffe (GP14)
2014/15 Nick Craig & various crews (Merlin Rocket)
2013/14 Michael Sims (Solo)
2012/13 Tom Gillard & Simon Potts (Fireball)
2011/12 Peter Gray & Rachael Rhodes (Scorpion)
2010/11 Andy Peake (Musto Skiff)
2009/10 Olly Turner & Richard Whitworth (Merlin Rocket)
SailJuice.com is the 'how to sail and race faster' website, with hundreds of articles and exclusive interviews with National, World and Olympic Champions. Professional sailing journalist and editor of SailJuice.com, Andy Rice, came up with the concept of the SailJuice Winter Series (originally known as the SailJuice Global Warm-Up) as a way of increasing participation levels in dinghy racing during the off-season in the UK.
SailRacer manages event websites and processes online entry for major National, International, Youth and training events, providing online scoring, analysis and advanced sports presentation including GPS tracking and live video.
GJW Direct's 'All-inclusive Dinghy Insurance Policy' offers outstanding premiums, taking the worry out of dinghy sailing and racing. The website, gjwdirect.co.uk/dinghy , offers the facility to get a quick quote and immediate on-line cover. This policy can be arranged by phoning GJW Direct on 0151 473 8000.
28/12/2017 10:56