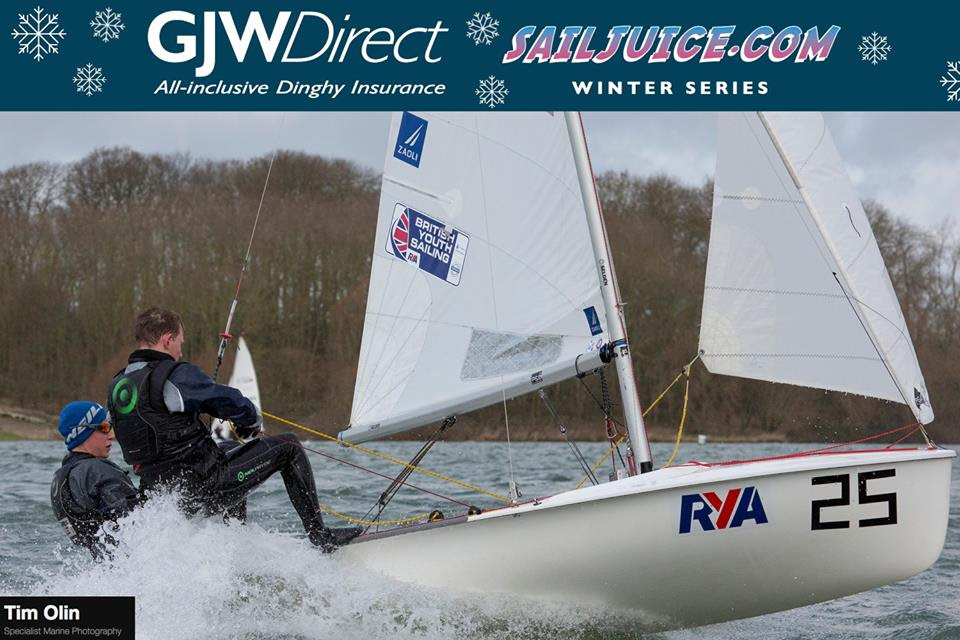 It looks like it's going to be a good breeze for this weekend's Tiger Trophy, with a lot of big names signed up already. Enter now.
With a few days to go, almost a hundred boats are entered for the penultimate event in this season's GJW Direct SailJuice Winter Series. The forecast suggests it's going to be moderate to breezy for both days at Rutland Water for the Tiger Trophy in aid of the John Merricks Sailing Trust.
Enter Now If the breeze is at the upper end then the youth sailors competing in the 420s and 29ers could fare well, although there's a strong contingent of senior sailors taking part in a big fleet of Fireballs that includes a number of champions. Most notably the evergreen duo of Dave Hall and Paul Constable continue their unbroken run of competing at every Tiger Trophy since it began over 20 years ago. Penny Clark, fresh back from Miami where she coached double Olympian Alison Young to a World Cup gold medal in the Laser Radial, will be steering a Fireball crewed by husband Russ.
As usual the entry list is chock full of champions, including Andy Couch in the Phantom, Charlie Cumbley in the Solo, Sam and Megan Pascoe (respectively International 14 and 2.4mR World Champions) in the Merlin, and also in the Merlin, multiple Endeavour Champions Nick Craig and Alan Roberts. 49er double Olympic medallist Simon Hiscocks could be dangerous in the International Moth if the breeze works out right for the high-speed foiler.
Other classes homing in on the Tiger include a trio of Challenger trimarans and a trio of National 18s including Peter Gray's team who won the Datchet Flyer at the end of last year.
There's still time to enter online, so join in the fun and sign up here: www.sailjuiceseries.com
Meanwhile, here's an update of the Series so far, with five of the seven events already completed:
Dynamic GPS handicaps rankings
Based on dynamic handicaps, calculated from GPS leg data referenced to historic statistics, to produce a context sensitive handicap to best fit every class to the conditions across each race. After eight races tracked by SailRacer, Alistair Goodwin (Laser - Haversham) heads the rankings, with Andrew Snell (K1 - ASA) in second and Ian Morgan (D-Zero) completing the podium.
GJW Direct SailJuice Winter Series photos
Tim Olin has been busy at all the events taking some great photos. The gallery of 750+ photos can be searched by sailor, class and event, with the option of ordering prints.
GJW Direct SailJuice Winter Series prizes and rankings
In addition to the overall top 10 rankings there are numerous other specialist awards and a chance for every one to win. Over 100 prizes were awarded across the series last winter.
Dinghy Rope Top Class
Defending champions the Lasers were Top Class at the King George Gallop, and have closed the gap on leaders Solos and 2nd placed Radials after GJW Direct SailJuice Winter Series #5.
Trident Top Club
Defending champions Datchet were top club at the King George Gallop, Netley remain at the top after GJW Direct SailJuice Winter Series #5.
Allen Performance Challenge
Based on analytics showing the best progression towards the front of the fleet in each race. At GJW DIrect SailJuice Winter Series #3 and the freezing conditions of the Brass Monkey, Jamie Rogers (Radial) showed the best performance progression. Overall after three rounds, Andrew Snell (K1) remains at the top, with Nigel Austin (D-Zero) jumping four places to second and Patrick Overs (Solo) up to third.
GUL Top Lady
Emma Pearson (Byte CI -Weston SC) jumps up to top spot, Emma Stevenson (Osprey - Weymouth SC) up to to joint second with defending champion Eleanor Craig (Radial - Draycote)
Youth and Junior Rankings
With a joint first at King George, defending champion George Coles (Laser - Carsington), takes top spot as we head into the last two events. Hamilton Roaf (Graduate - Chipstead) is pushed into second place, and top junior, with George Sunderland (Radial - Olton Mere) holding onto third overall and second junior.
SpeedSix Challenge
At GJW Direct SailJuice Winter Series #5, the fastest speed recorded on the SailRacer trackers was from Dan Holman and Graeme Oliver's International 14 hitting a sustained 11.44 knots. Ben Schooling in his MUSTO Skiff was fastest after speeds were adjusted. After three rounds of the SpeedSix challenge, Jonathan Carter (Vortex - Rickmansworth) holds on to top spot, with the Osprey of Phil Meakins (Warsash) and RS Aero 9 of Chris Larr (Northampton) moving up to second and third respectively.
Enter at: www.sailjuiceseries.com
THE EVENTS
The following regattas constitute the GJW Direct SailJuice Winter Series 2017/18):
Draycote Dash, Draycote Water Sailing Club
18 & 19 November 2017
Datchet Flyer, Datchet Water Sailing Club
9 & 10 December 2017
Brass Monkey, Yorkshire Dales Sailing Club
27 December 2017
Grafham Grand Prix, Grafham Water Sailing Club
30 December 2017
King George Gallop, King George Sailing Club (replaces cancelled Bloody Mary)
6 January 2018
John Merricks Tiger Trophy, Rutland Sailing Club
3 & 4 February 2018
Oxford Blue, Oxford Sailing Club
17 February 2018
You can find out more about the Series here: www.SailJuiceSeries.com
Photo Credits: Tim Olin
Notes to editors:
Previous winners of the GJW Direct Sailjuice Winter Series
2016/17 Matt Mee & Emma Norris (RS200)
2015/16 Ian Dobson & Andy Tunnicliffe (GP14)
2014/15 Nick Craig & various crews (Merlin Rocket)
2013/14 Michael Sims (Solo)
2012/13 Tom Gillard & Simon Potts (Fireball)
2011/12 Peter Gray & Rachael Rhodes (Scorpion)
2010/11 Andy Peake (Musto Skiff)
2009/10 Olly Turner & Richard Whitworth (Merlin Rocket)
SailJuice.com is the 'how to sail and race faster' website, with hundreds of articles and exclusive interviews with National, World and Olympic Champions. Professional sailing journalist and editor of SailJuice.com, Andy Rice, came up with the concept of the SailJuice Winter Series (originally known as the SailJuice Global Warm-Up) as a way of increasing participation levels in dinghy racing during the off-season in the UK.
SailRacer manages event websites and processes online entry for major National, International, Youth and training events, providing online scoring, analysis and advanced sports presentation including GPS tracking and live video.
GJW Direct's 'All-inclusive Dinghy Insurance Policy' offers outstanding premiums, taking the worry out of dinghy sailing and racing. The website, gjwdirect.co.uk/dinghy, offers the facility to get a quick quote and immediate on-line cover. This policy can be arranged by phoning GJW Direct on 0151 473 8000.
Article Author Tim Olin 31/1/2018 07:41