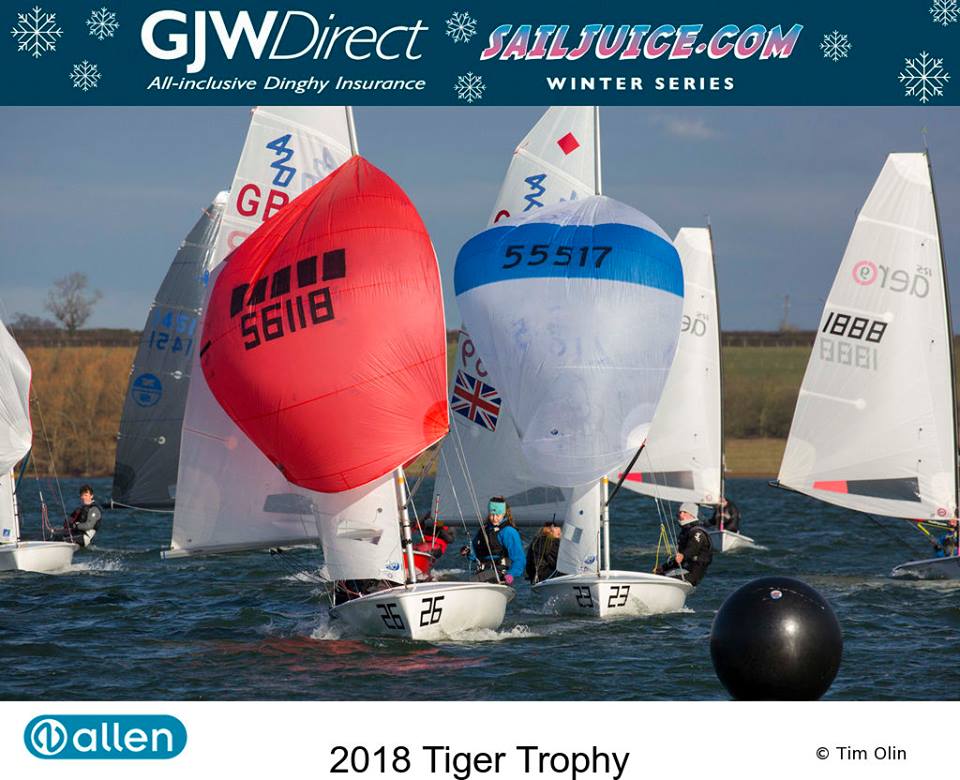 Strong Sunday breeze brought the fast boats to the fore at Rutland Water...
Ian Dobson and Richard Wagstaff rumbled their way to victory in their Fireball at the Tiger Trophy, the sixth event in this season's GJW Direct SailJuice Winter Series. The forecast for Rutland Water was changing by the day during the build-up to the weekend, with Saturday looking unsailable due to too much breeze. Come the day, however, and a lack of breeze halted any prospect of racing.
Instead principal race officer David Wilkins, having canvassed the views of the sailors on Saturday, canned Sunday's usual pursuit race in favour of the three back-to-back handicap races around a trapezoid course which had originally been scheduled for the Saturday.
Sunday dawned to sunshine and a good breeze, although there was an icy bite in the air, the shifting northerly winds creating a wind chill effect of minus 5 degrees Celsius. This would be the chilliest Tiger in a few years. However cold weather never dampened the spirits of John Merricks, the Olympic silver medallist in whose memory this event is organised. Of the 127 original entrants, 114 headed out on to the water to brave the challenging weather.
After a couple of general recalls for the over-eager Slow Handicap fleet, race 1 took place in 8-12 knots of wind, light enough for the fast asymmetrics to get up and motoring and carry their gennakers for a good chunk of the three offwind legs. Two RS800s took the first two places, the teenaged team of Nick Robins and Billy Vennis-Ozanne crossing in front of father/daughter combo, Ralph and Sophie Singleton. In third place was Ben Schooling dancing nimbly around his Musto Skiff.
While there hadn't been quite enough oomph in the breeze for the conventional spinnaker boats in race one, race two kicked in with winds of 7 gusting up to 20 knots. This time former Fireball World Champion Tom Gillard powered his 505, crewed by Harry Briddon, to victory ahead of the Fireball of Ian Dobson and Richard Wagstaff. Schooling again managed a third place with the Singletons taking fourth.
The breeze dropped off to a more steady 10 to 15 knots for the final heat, and this proved to be the deciding battle for overall honours. Indeed the top three in this race took the top three places overall. Dobson and Wagstaff won the race and won the Tiger Trophy by a single point ahead of the next two who were tied for second overall. It's exactly five years ago that Dobson last won the Tiger, when he raced a Fireball in 2013, crewed on that occasion by Sam Brearey.
The Singletons came second in the last race of the day although Gillard and Briddon's victory in race two was sufficient for the 505 to break the tie and clinch the runner-up spot ahead of the RS800. However it was the Singletons who were awarded the Tony Everard Trophy for the lowest aggregate score from all races, the only boat to score in single figures with results of 2,(4),2. Schooling's two third places were enough for the Musto Skiff to earn fourth overall.
Special mention should go to Dave Hall, having just turned 60, who with Paul Constable has competed at every Tiger Trophy since it began a quarter century ago. Together this duo have raced Fireballs for more than 30 years and this year finished seventh overall, showing very few signs of slowing down despite their advancing years.
This year's Tiger Trophy was predominantly a fast-boat affair, with the best of the slow handicappers being Andy Couch who hiked his Phantom to 11th overall, four points head of Alistair Goodwin's Laser in 12th.
Dennis Merricks, father of the late, great John Merricks, performed his customary role of handing out the prizes, albeit after a delay to settle the results. Founder of the event, Dick Sanders, commented: "Like London buses, no protests for 24 years then three come along at once!" This led to delay in the results and prizegiving, but with protests decided, it was on with the prizes, of which there were many.
Trophy Winners
John Merricks Tiger Trophy, Ian Dobson and Richard Wagstaff ( Fireball, Burwain
SMVC)
Tony Everard Trophy (Lowest score over 3 races without discard) Ralph and Sophie
Singleton (RS 800, Datchet SC)
Shere Khan Trophy (Oldest Helm over 60) Dave Hall (Fireball, Blackwater SC)
Lady Tiger Trophy (First finishing all girl crew) Megan Ferguson and Bettine Harris
(420, Frensham Pond Sailing Club)
John Merricks Junior Trophy (Under 16 on first day of event) Dylan McPherson and
Andrew Stuart (420, Burnham SC)
John Merricks Youth Trophy (Under 19 on 31st Dec 2017) Nick Robins and Bill
Vennis-Ozanne, 29er, Hayling Island SC)
Tiger Club Trophy (Sailing Club with the most entries other than Host ) Grafham SC
Class Prizes (highest finishing from classes with 6 or more entries:
Laser - Alistair Goodwin (12th, Haversham SC)
Solo - Charlie Cumbley (23rd, Warsash SC)
420 - Alex Colquitt and Rebecca Coles (15th, West Kirby SC)
Tiger Dinner
An important part of the weekend is the Tiger Dinner, held on the Saturday evening at Rutland Sailing Club. Dick Sanders writes: "We had 200 diners who down to the traditional bangers 'n' mash, John's favourite meal. Ian Walker, last year's Tiger winner and Trustee of the John Merricks Sailing Trust was due to speak on its behalf but family circumstances forced his absence.
"Ian sent his address to be read to the diners in which he mentioned the 20th anniversary of the Trust following Johns death, the circumstances of its formation reflecting the high regard John was held in the UK and throughout the world and the continuing funding contribution from events like the Tiger which has raised over £85,000 over the period.
"The Trustees were particularly satisfied with the success of former recipients, mentioning in particular, Dylan Fletcher and Stuart Bithell, with grants in 2002 and 2005, who are reigning World and European Champions in the 49er and only last week won yet another Olympic class event, the Miami World Cup."
Dinner was followed by a small auction of signed Americas Cup clothing which raising nearly £200. Everards continue to support the event with their Tiger Beer. This year, to reflect the changing demographics of the fleet, they also supplied their "Old Original" strong ale and the sale of this added further to the overall contribution of 50% of all takings from the weekend to the Trust.
NEXT: OXFORD BLUE AND THE DINGHY SHOW
There's just one event to go in this season's GJW Direct SailJuice Winter Series. The Oxford Blue takes place on Saturday 17 February at Farmoor Reservoir. With almost 80 boats already entered, the event is filling up quickly. Grab your spot and sign up here: www.sailjuiceseries.com
The prizegiving for this year's Series takes place soon after the doors open at the RYA Dinghy Show on Saturday morning on 3 March 2018.
THE EVENTS
The following regattas constitute the GJW Direct SailJuice Winter Series 2017/18):
Draycote Dash, Draycote Water Sailing Club
Datchet Flyer, Datchet Water Sailing Club
Brass Monkey, Yorkshire Dales Sailing Club
Grafham Grand Prix, Grafham Water Sailing Club
King George Gallop, King George Sailing Club (replaces cancelled Bloody Mary)
John Merricks Tiger Trophy, Rutland Sailing Club
Oxford Blue, Oxford Sailing Club
You can find out more about the Series here: www.SailJuiceSeries.com
Photo Credits: Tim Olin
Notes to editors:
Previous winners of the GJW Direct Sailjuice Winter Series
2016/17
Matt Mee & Emma Norris (RS200)
2015/16
Ian Dobson & Andy Tunnicliffe (GP14)
2014/15
Nick Craig & various crews (Merlin Rocket)
2013/14
Michael Sims (Solo)
2012/13
Tom Gillard & Simon Potts (Fireball)
2011/12
Peter Gray & Rachael Rhodes (Scorpion)
2010/11
Andy Peake (Musto Skiff)
2009/10
Olly Turner & Richard Whitworth (Merlin Rocket)
SailJuice.com is the 'how to sail and race faster' website, with hundreds of articles and exclusive interviews with National, World and Olympic Champions. Professional sailing journalist and editor of SailJuice.com, Andy Rice, came up with the concept of the SailJuice Winter Series (originally known as the SailJuice Global Warm-Up) as a way of increasing participation levels in dinghy racing during the off-season in the UK.
SailRacer manages event websites and processes online entry for major National, International, Youth and training events, providing online scoring, analysis and advanced sports presentation including GPS tracking and live video.
GJW Direct's 'All-inclusive Dinghy Insurance Policy' offers outstanding premiums, taking the worry out of dinghy sailing and racing. The website, gjwdirect.co.uk/dinghy, offers the facility to get a quick quote and immediate on-line cover. This policy can be arranged by phoning GJW Direct on 0151 473 8000.
5/2/2018 16:09