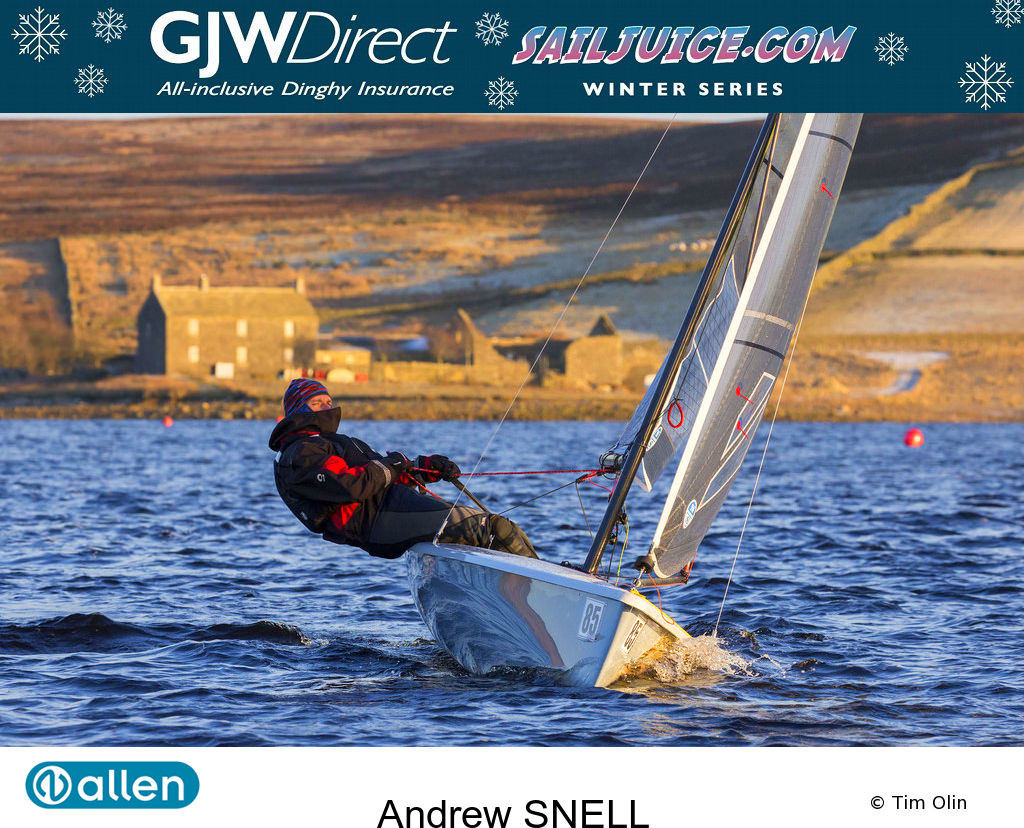 Goodwin's Laser leads, but three other singlehanders are waiting to pounce at Farmoor Reservoir this Saturday.
Farmoor is set to host a four-way fight to determine who will be crowned Champion of the GJW Direct SailJuice Winter Series. The Oxford Blue is the seventh and final event in the Series which started last November and has seen hundreds of competitors contending with the coldest British winter of recent times. However this Saturday's forecast suggests both the air temperature and wind strength will be fairly mild, with 6-8 knots of breeze forecast from the south-west.
Ben Schooling has been the bridesmaid before in the Series, and would probably be hoping for a bit more breeze to get his Musto Skiff really motoring against the three slower singlehanders that he's up against for the title. However the Stokes Bay sailor is known for getting the best out of the Skiff in the lighter conditions and is a past winner of the Oxford Blue.
If Alistair Goodwin can hold on to his lead he would become the first Laser sailor to win the Series, although he's got a battle on his hands to keep Andrew Snell's K1 keelboat at bay. Both the K1 and Andy Couch's Phantom are slippery in light airs and will be looking forward to the light forecast. On the other hand, with a huge entry of RS Aeros who are using the Oxford Blue as their class winter championship, traffic will be a problem for the hiking singlehanders. With around 130 boats already entered, and the entry limit of 150 almost reached, congestion around the marks will certainly play a factor in the outcome. If Schooling can find some clear air and get his Musto Skiff on the plane, his speed advantage could prove decisive. Phil Meakins, crewed by Tommo Tomson in his Osprey, currently lies in third overall and is also looking for a strong finish in the Series.
Meanwhile, here's a roundup of the other battles within the Series...
Dynamic GPS handicaps rankings
Based on dynamic handicaps, calculated from GPS leg data referenced to historic statistics, to produce a context sensitive handicap to best fit every class to the conditions across each race. After eight races tracked by SailRacer, Alistair Goodwin (Laser - Haversham) heads the rankings, with Andrew Snell (K1 - ASA) in second and Ian Morgan (D-Zero) completing the podium.
Dinghy Rope Top Class
No change at the Top with the Solos still leading the rankings, but defending champions the Lasers close the gap and jump up to 2nd after a strong showing at Rutland. Radials drop one place to third, although the rankings are still very close.
Trident Top Club
All change to find the top club this winter, with Rutland putting in a late charge and now topping the rankings, with 2015/16 winners Burghfield jumping to second and Netley dropping to third after heading the table.
Allen Performance Challenge
Based on analytics showing the best progression towards the front of the fleet in each race. James Stacey (Spitfire) showed the most improvement across the three races at Rutland, with the Fireballs helmed by Matt Burge and Ian Dobson completing the podium. For the overall rankings, Nigel Austin (D-Zero) jumps five places to top of the rankings, Paul Young (Enterprise) up two to second and Hamilton Roaf (Graduate) dropping to third.
GUL Top Lady
Junior sailor Monique Vennis-Ozanne (29er) was the top lady at Rutland. For the overall rankings across the GJW Direct SailJuice Winter Series, Emma Stevenson (Osprey) jumps to No. 1 position, with defending champion Eleanor Craig (Radial) in 2nd and Val Millward (Challenger) up to third.
Youth and Junior Rankings
Defending champion George Coles (Laser) continues to top the rankings, although third placed George Sunderland (Radial) has closed the gap on Hamilton Roaf in second.
SpeedSix Challenge
At GJW Direct SailJuice Winter Series #5, the fastest speed recorded on the SailRacer trackers was from Dan Holman and Graeme Oliver's International 14 hitting a sustained 11.44 knots. Ben Schooling in his Musto Skiff was fastest after speeds were adjusted. After three rounds of the SpeedSix challenge, Jonathan Carter (Vortex - Rickmansworth) holds on to top spot, with the Osprey of Phil Meakins (Warsash) and RS Aero 9 of Chris Larr (Northampton) moving up to second and third respectively.
GJW Direct SailJuice Winter Series photos
Tim Olin has been busy at all the events taking some great photos. The gallery of 750+ photos can be searched by sailor, class and event, with the option of ordering prints.
GJW Direct SailJuice Winter Series prizes and rankings
In addition to the overall top 10 rankings there are numerous other specialist awards and a chance for every one to win. Over 100 prizes were awarded across the series last winter.
GJW Direct SailJuice Winter Series Prize Giving
RYA Dinghy Show (Sat 3rd March - 10.30)
Series organisers Andy Rice and Simon Lovesey will present the highlights from this Winter, with a vast array of prizes to be awarded across the numerous categories. The prizegiving will start promptly at 1030am on the Saturday, soon after the doors open. It takes place at the Class Association Stage, which you can find by heading in the direction of the big organ. Book your RYA Dinghy Show tickets now.
Will you be in time for the Oxford Blue?
With hours to go before online entry closes this evening (Thursday, 15 February), you might still manage to get your entry in for the Oxford Blue. Be quick and enter here:
THE EVENTS
The following regattas constitute the GJW Direct SailJuice Winter Series 2017/18):
Draycote Dash, Draycote Water Sailing Club
18 & 19 November 2017
Datchet Flyer, Datchet Water Sailing Club
9 & 10 December 2017
Brass Monkey, Yorkshire Dales Sailing Club
27 December 2017
Grafham Grand Prix, Grafham Water Sailing Club
30 December 2017
King George Gallop, King George Sailing Club (replaces cancelled Bloody Mary)
6 January 2018
John Merricks Tiger Trophy, Rutland Sailing Club
3 & 4 February 2018
Oxford Blue, Oxford Sailing Club
17 February 2018
You can find out more about the Series here: www.SailJuiceSeries.com
Photo Credits: Tim Olin
Notes to editors:
Previous winners of the GJW Direct Sailjuice Winter Series
2016/17 Matt Mee & Emma Norris (RS200)
2015/16 Ian Dobson & Andy Tunnicliffe (GP14)
2014/15 Nick Craig & various crews (Merlin Rocket)
2013/14 Michael Sims (Solo)
2012/13 Tom Gillard & Simon Potts (Fireball)
2011/12 Peter Gray & Rachael Rhodes (Scorpion)
2010/11 Andy Peake (Musto Skiff)
2009/10 Olly Turner & Richard Whitworth (Merlin Rocket)
SailJuice.com is the 'how to sail and race faster' website, with hundreds of articles and exclusive interviews with National, World and Olympic Champions. Professional sailing journalist and editor of SailJuice.com, Andy Rice, came up with the concept of the SailJuice Winter Series (originally known as the SailJuice Global Warm-Up) as a way of increasing participation levels in dinghy racing during the off-season in the UK.
SailRacer manages event websites and processes online entry for major National, International, Youth and training events, providing online scoring, analysis and advanced sports presentation including GPS tracking and live video.
GJW Direct's 'All-inclusive Dinghy Insurance Policy' offers outstanding premiums, taking the worry out of dinghy sailing and racing. The website, gjwdirect.co.uk/dingh y , offers the facility to get a quick quote and immediate on-line cover. This policy can be arranged by phoning GJW Direct on 0151 473 8000 .
15/2/2018 16:58