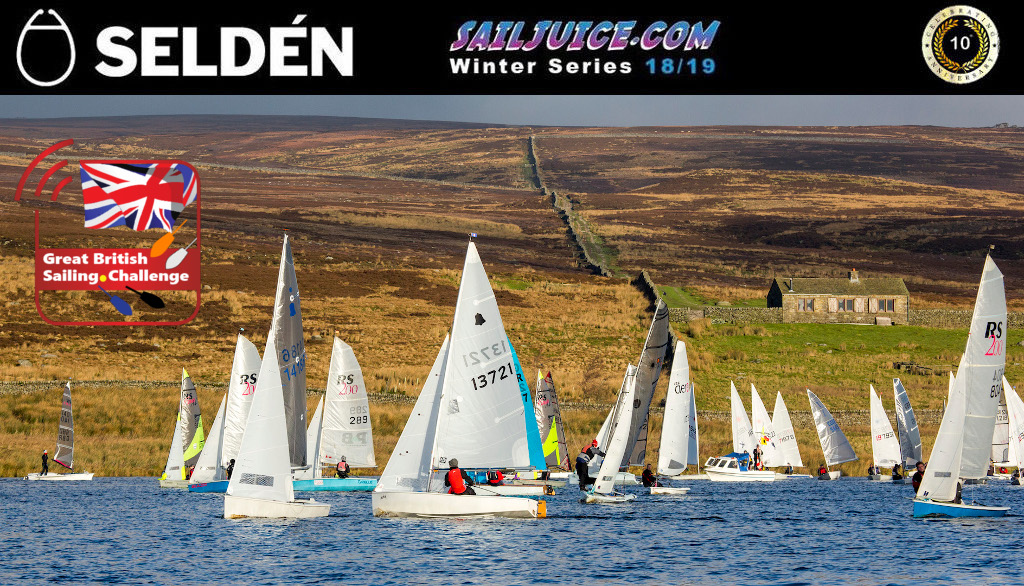 The third round of the Selden SailJuice Winter Series heads north to Yorkshire Dales Sailing Club, with a forecast for mild conditions. This is also the third qualifier for the Great British Sailing Challenge.
A capacity fleet of 79 entries looking to take the crown away from Graham Tinsley's Laser, and still time to enter the Grafham Grand Prix this Sunday
Normally it's cold enough to freeze the balls off a Brass Monkey, but this year's trek northwards looks set to be a mild and moderate outing for round three of the Selden SailJuice Winter Series. The Yorkshire Dales Brass Monkey takes place on 27 December in the spectacular surroundings of Grimwith Reservoir, and it attracts some top-flight competition. Please note that entries for this event are now closed.
Just three days later it's round four of the Series, the Grafham Grand Prix, with more than 100 boats already entered. Entry is online only at www.sailjuiceseries.com up to 20:00 on Friday 28th December 2018.
Graham Tinsley is back to defend his Brass Monkey title from 12 months ago, but there are plenty of big names among the 79 entries for him to watch out for. Former World Champion Neil Marsden is racing a GP14. Top-flight Fireball team, Ian Dobson and Richard Wagstaff, will be looking to plane their way into the front but have some other high-level Fireballs to watch out for, not least Mr Fireball himself, boatbuilder Dave Winder crewed by Ben Rayner.
Quite a few crews are attempting all seven events the Selden SailJuice Winter Series including Blaze sailor Richard Botting who managed all seven last season. Others who are making a long trip from the south include father and son team in the Osprey from Castle Cove Sailing Club in Weymouth, Ben and Simon Hawkes. Other family teams include series regulars Ralph and Sophie Singleton in the RS800, Colin and Oly Murray in the Norfolk Punt and winners of this event from five years ago in their 49er, Matty and James Lyons.
Among the singlehanded stars are Eleanor Craig in the Radial, Craig Williamson in the RS Aero, and previous winners of the Series, Tom Gillard sailing a Solo and Nick Craig in a D-One.
The Yorkshire Dales Brass Monkey is also part of the brand new Great British Sailing Challenge, with live tracking of all the boats.
Meanwhile, remember to get your entry in soon for the Grafham Grand Prix at www.sailjuiceseries.com
THE EVENTS
The following events constitute the Seldén SailJuice Winter Series 2018/19:
Fernhurst Books Draycote Dash, Draycote Water Sailing Club
17 & 18 November 2018
Datchet Flyer, Datchet Water Sailing Club
8 & 9 December 2018
Brass Monkey, Yorkshire Dales Sailing Club
27 December 2018
Grafham Grand Prix, Grafham Water Sailing Club
30 December 2018
Bloody Mary, Queen Mary Sailing Club
12 January 2019
John Merricks Tiger Trophy, Rutland Sailing Club
2 & 3 February 2019
Oxford Blue, Oxford Sailing Club
16 February 2019
You can find out more about the Series here: www.SailJuiceSeries.com
Further Information for media:
Please contact Andy Rice
email: info@sailjuice.com
Phone: 020 8133 9330
Website: www.sailjuice.com
Photo Credits: Tim Olin
Notes to editors:
Current and previous winners of the Seldén Sailjuice Winter Series
2017/18 Alistair Goodwin (Laser)
2016/17 Matt Mee & Emma Norris (RS200)
2015/16 Ian Dobson & Andy Tunnicliffe (GP14)
2014/15 Nick Craig & various crews (Merlin Rocket)
2013/14 Michael Sims (Solo)
2012/13 Tom Gillard & Simon Potts (Fireball)
2011/12 Peter Gray & Rachael Rhodes (Scorpion)
2010/11 Andy Peake (Musto Skiff)
2009/10 Olly Turner & Richard Whitworth (Merlin Rocket)
SailJuice.com is the 'how to sail and race faster' website, with hundreds of articles and exclusive interviews with National, World and Olympic Champions. Professional sailing journalist and editor of SailJuice.com, Andy Rice, came up with the concept of the SailJuice Winter Series (originally known as the SailJuice Global Warm-Up) as a way of increasing participation levels in dinghy racing during the off-season in the UK.
SailRacer manages event websites and processes online entry for major National, International, Youth and training events, providing online scoring, analysis and advanced sports presentation including GPS tracking and live video.
Seldén Mast Ltd is the world leader in dinghy spars. More races are won by Seldén Spars than any other brand. Dinghy spars are made using 6082T6 aluminium with CNC cut tapers, automated welding and heat treating resulting in the highest quality and most consistent dinghy spars available. Seldén produces about 400 carbon masts per year for boats including high performance dinghies and race yachts.
24/12/2018 07:03