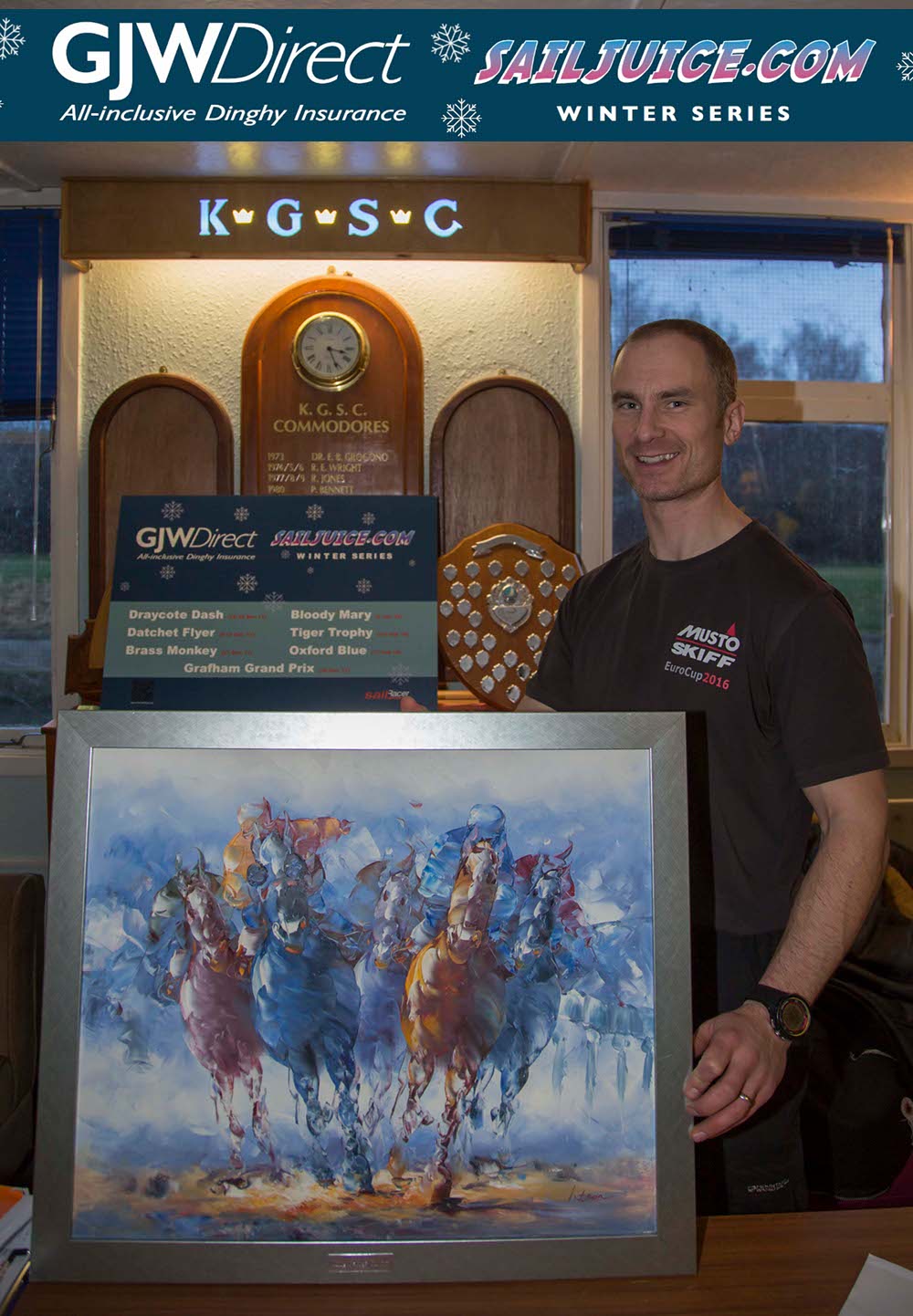 The King George Gallop was an eleventh hour replacement for the Bloody Mary which went down well with competitors from around the country...
Ben Schooling sailed his Musto Skiff to victory in the first ever edition of the King George Gallop, the fifth event in this season's GJW Direct Sailjuice Winter Series. It was a cold northerly breeze of 10 knots, with the moderate breezes throwing possibilities wide open for who could win this pursuit race, a 2.5 hour trek around a 2.5 mile-lap course on King George Reservoir in North London.
For more than the first two hours of the race, Yana Skvortsova's Topper held the lead until the 15-year-old from Island Barn Reservoir was overtaken by a Wayfarer sailed by Andrew and Tom Wilson from Datchet Water.
The breeze built half way through the race and the SailRacer trackers were predicting that the fastest boats might pull through to the front, with Dan Holman and Graeme Oliver's International 14 hitting a sustained 11.44 knots boatspeed. However, the breeze started to drop in the dying stages of the race, which saw five laps of the course completed by the time Schooling was approaching the finish line.
Schooling is a pass master of light and variable conditions, and the Stokes Bay sailor was systematically working his way through the slower boats. With ten minutes to go, the front of the race was in sight, with Schooling speeding past the Wilsons in their Wayfarer, travelling at over 50 per cent faster on the close reach at the end of lap four. By the finish Ben was 0.2 mile ahead of the second placed Wayfarer, who managed to hold off Andy Couch in his Phantom.
GPS Tracking Given the large spread of boats at the finish, and the challenge of the asymmetrics gybing downwind compared to the more direct route taken by the symmetrical and non-spinnaker classes, the SailRacer trackers were able to produce accurate finishing positions.
Andrew Snell finished 8th in his K1 keelboat, a result good enough for him to retain the lead in the overall Series, although Alistair Goodwin's Laser is up a place to second overall, and just three points off the lead.
Results It was brave of King George Sailing Club to take on a new event for the first time at short notice, but it went down very well with competitors. Regular Series competitor James George, sailing a 420 with his son Harry, commented: "I think it was one of the most all-round welcoming and enjoyable events yet. Certainly the best I have sailed over the past year in terms of organisation and chilled out atmosphere."
Next event in the GJW Direct SailJuice Winter Series is the John Merricks Tiger Trophy, taking place at Rutland Sailing Club on 3 & 4 February.
Enter at: www.sailjuiceseries.com
King George Gallop
Overall Winner
Ben Schooling (Musto Skiff)
First Youth and Lady
Yana Skvortsova (Topper) - 13th
SpeedSix fastest sustained speed (unadjusted)
Dan Holman and Graeme Oliver (Int 14)
SpeedSix fastest sustained speed (adjusted)
Ben Schooling
THE EVENTS
The following regattas constitute the GJW Direct SailJuice Winter Series 2017/18):
Draycote Dash, Draycote Water Sailing Club
18 & 19 November 2017
Datchet Flyer, Datchet Water Sailing Club
9 & 10 December 2017
Brass Monkey, Yorkshire Dales Sailing Club
27 December 2017
Grafham Grand Prix, Grafham Water Sailing Club
30 December 2017
King George Gallop, King George Sailing Club (replaces cancelled Bloody Mary)
6 January 2018
John Merricks Tiger Trophy, Rutland Sailing Club
3 & 4 February 2018
Oxford Blue, Oxford Sailing Club
17 February 2018
You can find out more about the Series here: www.SailJuiceSeries.com
Photo Credits: Tim Olin
Notes to editors:
Previous winners of the GJW Direct Sailjuice Winter Series
2016/17 Matt Mee & Emma Norris (RS200)
2015/16 Ian Dobson & Andy Tunnicliffe (GP14)
2014/15 Nick Craig & various crews (Merlin Rocket)
2013/14 Michael Sims (Solo)
2012/13 Tom Gillard & Simon Potts (Fireball)
2011/12 Peter Gray & Rachael Rhodes (Scorpion)
2010/11 Andy Peake (Musto Skiff)
2009/10 Olly Turner & Richard Whitworth (Merlin Rocket)
SailJuice.com is the 'how to sail and race faster' website, with hundreds of articles and exclusive interviews with National, World and Olympic Champions. Professional sailing journalist and editor of SailJuice.com, Andy Rice, came up with the concept of the SailJuice Winter Series (originally known as the SailJuice Global Warm-Up) as a way of increasing participation levels in dinghy racing during the off-season in the UK.
SailRacer manages event websites and processes online entry for major National, International, Youth and training events, providing online scoring, analysis and advanced sports presentation including GPS tracking and live video.
GJW Direct's 'All-inclusive Dinghy Insurance Policy' offers outstanding premiums, taking the worry out of dinghy sailing and racing. The website, gjwdirect.co.uk/dinghy , offers the facility to get a quick quote and immediate on-line cover. This policy can be arranged by phoning GJW Direct on 0151 473 8000.
8/1/2018 17:17